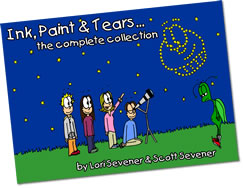 Greetings and salutations, my good friends!!!

Though we still just don't really have time to start cranking out new strips again anytime soon, instead we thought it would at least be a little fun to package up everything that we did create during the full run of Ink, Paint & Tears..., and so here we are - with a shiny, new full-color paperback featuring every talking muffin, every silly blonde joke - all of them ready and waiting for your loving perusal in the name of good, old-fashioned, light-hearted comedy...

You can pick up a copy right from this very website at the perfectly reasonable price of $14.95, and if you act fast, you may even be able to garner one of the few autographed copies that we were able to coordinate between the two of us on opposite ends of the country!

We really are very happy with how the book came out, and hope that if you find yourself laying in bed at night with visions of Steve and Brandi dancing through your head, you'll consider picking up a copy to re-live a few years worth of fun memories along with us!

All my best in cartooning and comedy...

- Scott Sevener
Writer / Web Producer - Ink, Paint & Tears...